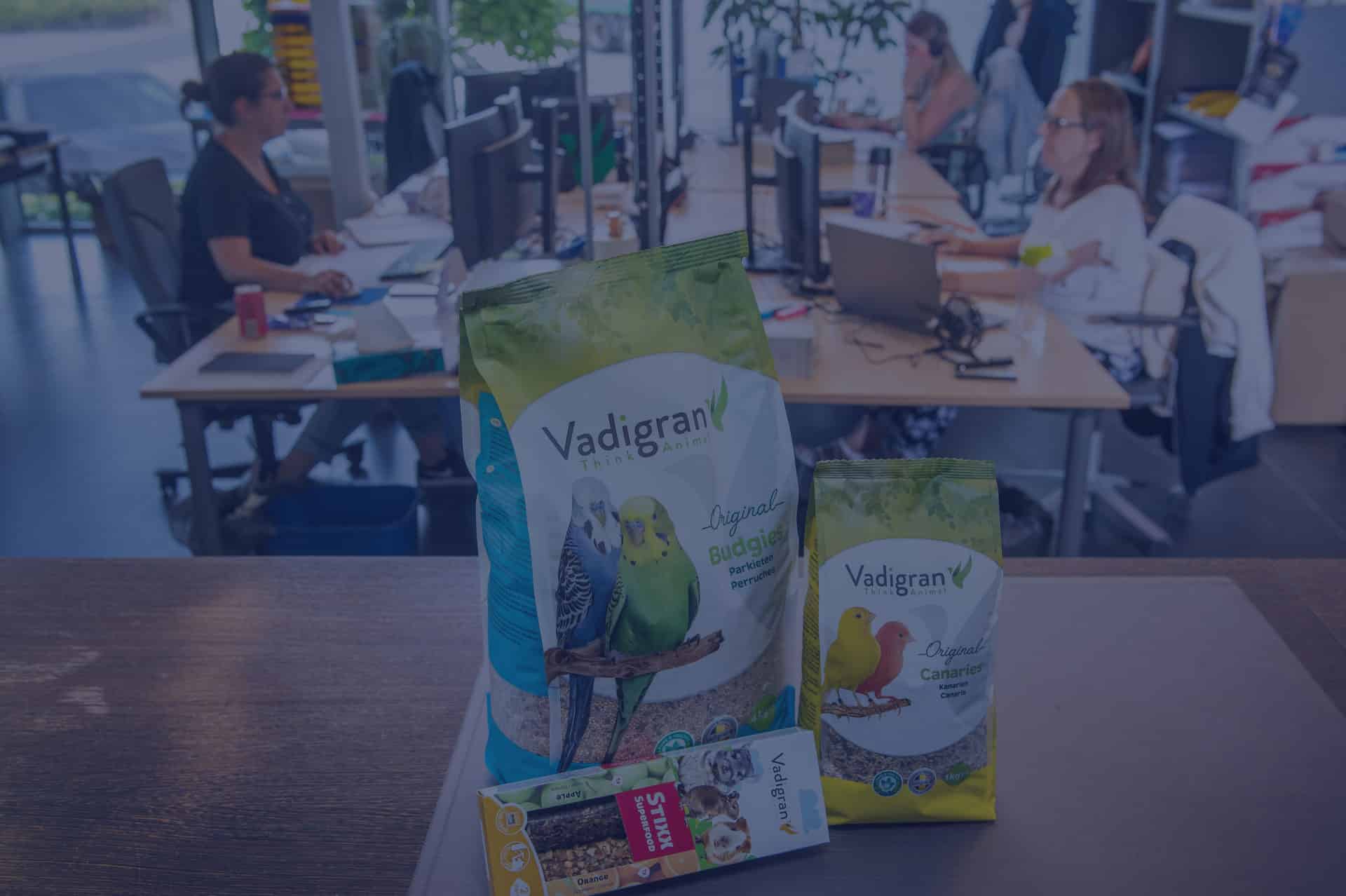 Vadigran's 3rd generation chooses IT professionalisation with Tyneso
Vadigran's 3rd generation chooses IT professionalisation with Tyneso
Belgian family company Vadigran evolves in 60 years from cereal producer for pet food to total pet supplier. Their mission has never been clearer: creating a more sustainable pet lifestyle. With extreme care for animals, people and the planet, they strive for sustainable happiness every day. Vadigran's business model underwent a huge transformation and its IT infrastructure also evolved with it. And so the company started the search for a reliable partner to realise its digital transformation roadmap.
TYNESO & VADIGRAN: A STRONG PARTNERSHIP
Vadigran found that partner in Tyneso and so it happened. Thanks to a good business, but also to a human connection, the 2 companies were soon on the same page. The foundation is strong and the strategy clear, but internationalisation, strong growth and concrete cyber threats demand more from the IT infrastructure. Building a reliable and highly secure network was a priority.
CHALLENGES
The needs of the business have changed. Whereas before they always got by with 1 internal ICT person supplemented by specific knowledge from freelancers, the management now started looking for an experienced IT partner. A Managed Service Provider (MSP) to take care of the team on a day-to-day basis.
"Pet owners have a huge impact on the environment, often without realising it themselves. Our industry will undergo a huge transformation in the coming years and Vadigran wants to be at the forefront. We are going 100% for carbon neutral and sustainable products with the launch of our new Yana line and our sites are also carbon neutral. We are also building an electric vehicle fleet in addition, and these are just some concrete examples."
CEO Vadigran
Samuel Van Lathem
IMPLEMENTATION
Vadigran sought and found in Tyneso a reliable partner for the switch to more sustainable business processes. We opted for:
• laying additional fibre-optic cables
• installing Wi-Fi routers in the warehouses
• adding the right access points
• installing new computer devices, printers, proper backup systems, …
• switching to Office 365 and Microsoft Teams
• building the right connections between different software systems
• providing the right accesses within the BI package
Once that solid foundation was in place, Tyneso went on with unburdening. "We have a monthly service contract running and are thus completely unburdened by Tyneso. This allows us to focus on growth, digital transformation and creating added value within the company. The things that really matter to build our business further while we can confidently rely on Tyneso."
Modernise your IT infrastructure
COLLABORATION
"Tyneso is really an extension of our IT department. It is as if we hired someone extra. Only behind that 'extra person' in this case is a full team of experts, each with their own specialisations. A team that knows us, ensures continuity, is at home in all markets and can gear up quickly. That is impossible to find in one single IT profile," Samuel explains. Tyneso is also playing an important role in the further digital transformation within Vadigran. Microsoft Dynamics, for example, is scheduled to be implemented in 2023.
"We have, of course, also invested in cybersecurity. We're not taking any more chances and Tyneso totally understood that. They are strict and protect our entire infrastructure like a guard dog. I always see improvements and am kept informed of all evolutions and dangers. Thus, in the future, we want to focus even harder on staff cybersecurity awareness. The peace of mind they give me as CEO is invaluable. I am confident that our IT is in good hands and I feel safe!"
ADVANTAGES
• Single point of contact
• Ticketing system and clear structure
• Time savings and nothing is forgotten
• More peace of mind and professionalisation
• Cooperation is future-proof
ENGAGING
WORKPLACES
Our end-to end-solutions and services are tailored to your enterprise and fit into complex IT environments. We create connected, engaging workplaces. Safe and productive environments where people can work on every device possible. Anywhere, everywhere
How can we help you?
TAKE ADVANTAGE
OF OUR SOLUTIONS
At Tyneso we don't think in terms of problems, so called problems are seen as opportunities to improve, to do better than before. We can provide your company with the right tailor-made IT solutions. Contact us to so we can discuss how we can help you.
Contact us